NEWSLETTER: March 2023
Introducing Security Awareness Training for Your Employees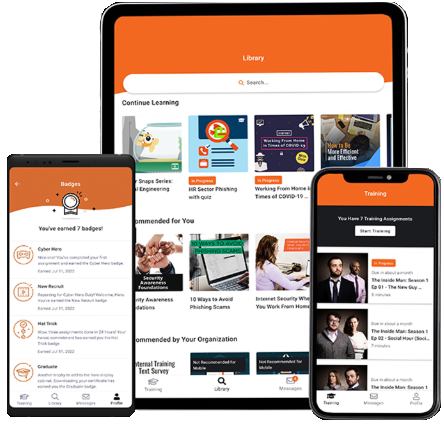 Introducing Security Awareness Training for Your Employees.
Valued Customer, we're helping clients like you build a Modern Security Stack that starts with the "Human."
Like most companies, you've likely protected your business with properly maintained firewalls, updated anti-virus software, secured VPN connections, 2-factor authentication and spam-reduction tools. Most companies have adopted those same cyber protections and yet we still read about multiple high profile data breaches and ransomware attacks every week in the news. Why?
In a sample of 9.5 million email users, an average of 32.4% fall for phishing email.
Even with the best cyber protection strategies in place, all it takes is one fake email, opened attachment or clicked link to bypass all of your cybersecurity protections.
Unfortunately, this problem can't be fixed with more hardware and software protection; this problem requires changing the basic human behavior of your employees.
That's why Clarktel has partnered with Cybersecurity experts, Edge Communications and KnowBe4, to bring to you the world's most popular integrated Security Awareness Training and Simulated Phishing platform. This service:
Reduces malware and ransomware infections

Reduces Data Loss

Reduces Potential Cyber-theft

Makes Security Top of Mind for your Employees
How does it work?
Your staff will be tested with simulated phishing emails from our team.Likely 32.4% of the time your staff will incorrectly click on these.


Next, your staff is enrolled into our Security Awareness Training program that both teaches them how to avoid cyber criminal actions and to adopt a security-focused mindset.

The simulated phishing testing continues

Results are analyzed

Staff that continue to make errors are re-enrolled into training and retested
Within 6 months your phishing error rates should drop into the single digits. Check out the success rates:
An independent case study of the benefit of this service revealed a 276% ROI and a less than three-month payback.
Many clients who enroll in this training end up qualifying for a reduction in their insurance premiums.
Is it time to up your cybersecurity game?
Call us today to learn more: 330.869.8657 | www.clarktel.net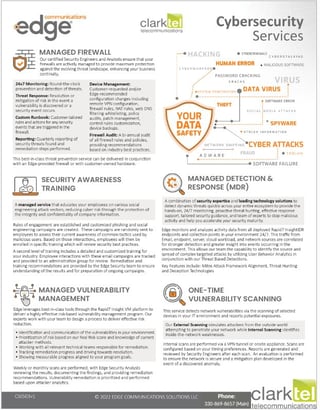 Full Cybersecurity Services Offered - PDF
Introducing Precision Contact, a part of NEC's UNIVERGE BLUE CLOUD SERVICES.
Precision Contact Presentation - PDF
You now have the ability to expand how customers reach your business!
Introducing Precision Contact, a part of NEC's UNIVERGE BLUE CLOUD SERVICES.
Precision Contact is a Cloud-based service that lets you easily communicate with your customers through text messaging and webchat.
This is a great solution for medium and small organizations without a contact center. With Precision Contact, you can now let customers contact you the way they want to; and even easily handle multiple customer conversations at the same time.
Why enable texting for your company's main phone number? Simplicity. Your customers can reach you via text using the main number that they likely already have in their phone contacts.
39% of businesses and organizations use SMS text messages to communicate with customers. This number is growing!

People prefer texting. 58% of people say that texting is the most effective way for businesses and organizations to reach them.
In your own life, how often do you find yourself preferring text over voice and email?
Why add web chat? Live web chat has the highest satisfaction level of the top customer service communication channels. Precision Contact provides a plug-in module for your website that allows customers to initiate a chat with your sales support or technical support staff.
59% of customers regularly use live web chat to connect with a brand or company.
With Precision Contact's desktop and mobile app, you, or a team of employees, can now respond to your customers no matter where you are.
Let's put Precision Contact to a test! Go to www.clarktel.net, look in the lower right corner for the orange circle with the words "Start a chat!" and say hello to us.
REQUEST A SERVICE CALL OR SALES SUPPORT:
SERVICE:
Routine Service Requests: Call: 330-572-4853 (24/7)
OR Email anytime: service@clarktel.net
Emergency Service Requests: Call: 330-572-4853 (24/7)
NEVER SEND AN EMAIL FOR EMERGENCY SERVICE REQUESTS
SALES AND BILLING:
Billing Questions: Email: accounting@clarktel.net
Quotes and Estimates: Email: info@clarktel.net