Security Solutions - CCTV
NEWSLETTER: April 2023
Security Challenge? No Problem! Clarktel has you covered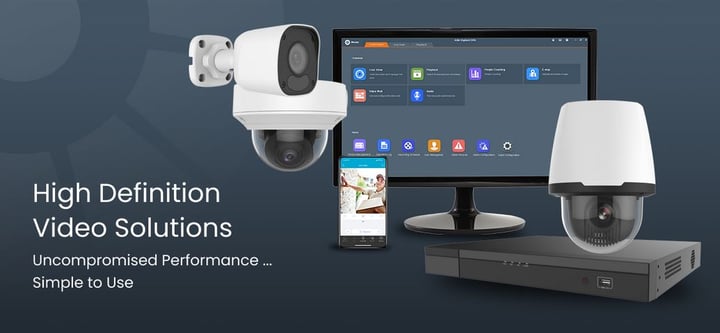 Security Challenge? No Problem! Clarktel has you covered.
Clarktel partners with security experts, Alibi Security, to provide you with cutting edge cloud security options, including: cloud video storage, mobile phone access, and A.I. Analytics.
Alibi solutions are designed to deliver the best possible user experience from installation to operations. Alibi Vigilant gear delivers high-resolution video security - from 2MP to 8MP - and flexible channel counts - 4CH to 128CH - to handle projects of all sizes. Alibi Vigilant gear is built with the latest features including Starlight chipsets, powerful video analytics, advanced compression, power-over-ethernet and more.
Plus, all Alibi Vigilant gear is designed to be easy to use and the Alibi Vigilant mobile app makes it easy to setup and manage the security solution and gives you the ability to access footage and live camera views, anywhere in the world.
Did you know that stores or businesses with cameras are 33% less likely to have crime at their site.
That's right, businesses that invest in a video surveillance system are 33% less likely to have crime on their property. This is due to what they call "situational crime prevention," which is founded on creating a setting that discourages bad behaviors and makes perpetrators feel like they are being watched.
Why chose Alibi Security and Clarktel?
Cutting-Edge Components

High-Resolution Recording

Exceptional Image Quality

Latest Technologies

Intuitive User Interface

Central Management Software

Scalable

Full-Featured Mobile App

Local service and support from Clarktel

Peace of mind today - without being penalized tomorrow
Is it time to consider adding next-level cloud security to your business?
Call or text us today to learn more: 330.869.8657 | www.clarktel.net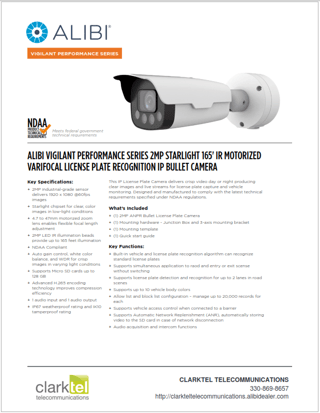 Alibi Camera Brochure - PDF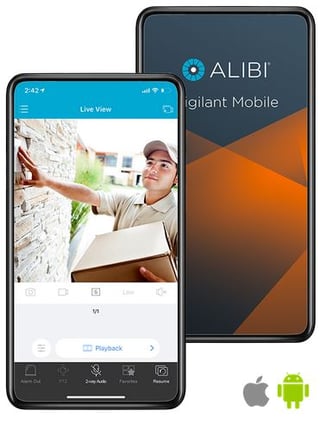 Overview of Alibi Mobile App - Google Play Store
Our client response on this product was so good last month, we're highlighting it again! Precision Contact!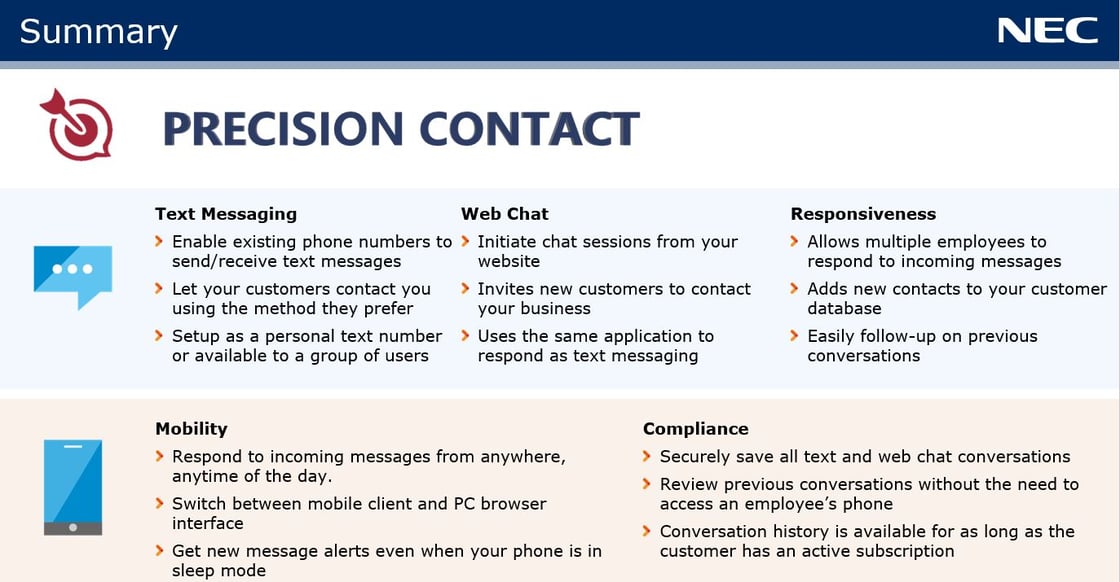 Precision Contact Use Cases - PDF
Our client response on this product was so good last month, we're highlighting it again!
You now have the ability to expand how customers reach your business!
Precision Contact is a Cloud-based service that lets you easily communicate with your customers through text messaging and webchat.
This is a great solution for medium and small organizations without a contact center. With Precision Contact, you can now let customers contact you the way they want to; and even easily handle multiple customer conversations at the same time.
Why enable texting for your company's main phone number? Simplicity. Your customers can reach you via text using the main number that they likely already have in their phone contacts.
39% of businesses and organizations use SMS text messages to communicate with customers. This number is growing!

People prefer texting. 58% of people say that texting is the most effective way for businesses and organizations to reach them.
In your own life, how often do you find yourself preferring text over voice and email?
Why add web chat? Live web chat has the highest satisfaction level of the top customer service communication channels. Precision Contact provides a plug-in module for your website that allows customers to initiate a chat with your sales support or technical support staff.
59% of customers regularly use live web chat to connect with a brand or company.
With Precision Contact's desktop and mobile app, you, or a team of employees, can now respond to your customers no matter where you are.
Let's put Precision Contact to a test! Go to www.clarktel.net, look in the lower right corner for the orange circle with the words "Start a chat!" and say hello to us.